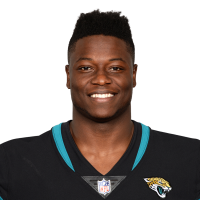 Team JAX
Pos WR
Status AActive
Manager FA
Black History Moment: Freedom RidersMon, Feb 8 at 4:59pm

Jacksonville Jaguars wide receiver Chris Conley has long been passionate about voting rights in this country. Mostly because the fight for this cause has been something his family has been a part of for decades. Conley's aunts were freedom riders in the 60s pushing for voting rights and equal opportunities for Black Americans. In today's Black History Moment, Conley tells us more about Freedom Riders and their contribution to American History.

Chris Conley tells story of James Weldon Johnson's JacksonvilleSat, Jan 16 at 6:14pm

Jaguars receiver Chris Conley takes us through the little-known black history of Jacksonville, Florida, and the story of its most notable native son, James Wheldon Johnson, author of the iconic song "Lift Every Voice and Sing." Written over 120 years ago, and still relevant today.