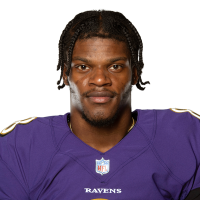 Team BAL
Pos QB
Status QQuestionable
Manager FA
NFL 360: How Black QBs have used their platforms to spark changeSun, Feb 21 at 6:03pm

Wayne Brady, Jemele Hill, Rev. Al Sharpton and Anthony Anderson discuss the opportunity and responsibility for Black quarterbacks in the NFL to speak out and affect change, especially given the social injustices that we saw in 2020. And current star quarterbacks Russell Wilson and Patrick Mahomes share what giving back and spreading awareness about racial equity means to them.

NFL 360: How young Black QBs impact today's NFL gameSun, Feb 21 at 5:55pm

John Legend, Snoop Dogg, the Rev. Jesse Jackson and Cedric the Entertainer celebrate a generation of young Black quarterbacks, including Patrick Mahomes, Deshaun Watson, Dak Prescott, Lamar Jackson and Russell Wilson, who are dominating on the game's biggest stage.